Shelby Wiesner, M.A.
---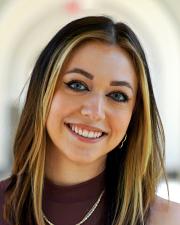 Contact Info
Dole Center, Room 4082
Lawrence
1000 Sunnyside Ave.
Lawrence, KS 66045
---
Biography
—
Shelby is an Assistant Researcher at the Center for Community Health and Development, where she supports the implementation of research and evaluation projects, training, and technical support for initiatives focusing on substance abuse prevention and sexual violence prevention. Shelby also supports the facilitation of training community-based initiatives in capacity building for community change and improvement through the Community Tool Box Curriculum.
She received a Bachelor of Arts from Fort Hays State University, and a Master of Arts from Wichita State University. Her background includes advanced training in sociological research and theory. She is experienced with qualitative and quantitative methods. Her experience includes research in substance abuse and sexual violence risk reduction methods, facilitation of community health needs assessments, and the development of violence prevention activities and information with a trauma-informed approach.