Sanna Schneeberger, M.A.
---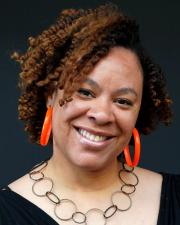 Prevention Specialist/Research Assistant
Contact Info
Dole Center, Room 4083
Lawrence
1000 Sunnyside Ave.
Lawrence, KS 66045
---
Biography
—
Sanna Schneeberger received her certification as a level-three Prevention Professional in 2008 through the IC&RC Virginia Prevention Certification Board, with a primary focus on substance abuse prevention efforts. She graduated with a master's degree in Community Agency Counseling from Hampton University and has extensive experience working with grassroots organizations. As Coordinator of Prevention Services for the Community Services Board, she spear-headed and contributed to the development of a local community coalition made up of over 100 organizations.
Sanna helped create the Community Builders Network of Virginia (VA's statewide prevention coalition) and was responsible for organizing and planning the annual statewide prevention conferences during her tenure. Her contributions to the field of prevention included helping organizations across Virginia train prevention specialists and providing feedback and recommendations to the VA Department of Health & Human Services as they developed a prevention database for reporting.
Before moving to Kansas, Sanna also provided crisis intervention for the U.S. Department of Defense's military personnel and their spouses. Currently, Sanna works for the Center for Community Health & Development at the University of Kansas as a Prevention Specialist where she provides support for their Community and Youth Development Prevention Team's research.