Paul Schneider
---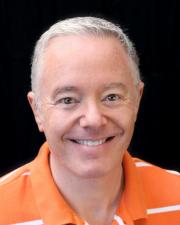 Research Informatics Analyst
Contact Info
Dole Center, Room 4082
Lawrence
1000 Sunnyside Ave.
Lawrence, KS 66045
---
Biography
—
Paul joined the Center for Community Health and Development team in March of 2014. Born in New York City and raised in Lawrence, Kansas, he attended KU in the early 1980s on a double music scholarship for Voice and Viola. Since then, Paul has worn many "career hats," having been an actor, writer, composer, singer, arranger, and motion-graphics producer. Initially, he spent seven-plus years with the California Community Foundation as their communications assistant. In 2010, he relocated to the Midwest from Los Angeles, where he spent another decade as senior producer of interactive media for New Wave Entertainment, producing and designing DVD/Blu-ray Disc menus and interactive content for many Hollywood films and television shows. His first novel, "Silver Shoes," was selected as a 2010 Kansas Notable Book by the Kansas Center for the Book and the State Library of Kansas. Two sequels followed, "The Powder of Life" and "The Magic Belt," released in 2012 and 2018, respectively. He also co-authored a biography entitled "More Than Tongue Can Tell" with Warner Bros. film star Andrea King, which was published in 2014.
At the Center for Community Health and Development, Paul develops and supports technology applications for faculty, staff, and community partners. He conceptualizes, designs, develops, and implements applications and supports requirements gathering, performs data management, user experience design, quality assurance, and deployment of applications.
Paul also creates reports, develops graphics for print, web, and social media, and makes updates to support our Community Check Box Evaluation Systems, Community WorkStations, and WordPress-hosted Action Toolkits for clients. In addition to performing tech work required to implement solutions, Paul provides user support and related training.