Marquis Everett, M.P.A.
---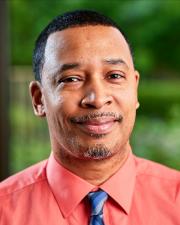 Research Project Coordinator
Contact Info
Dole Center, Room 4082
Lawrence
1000 Sunnyside Ave.
Lawrence, KS 66045
---
Biography
—
Marquis Everett has served as the Research Project Coordinator for ThrYve since August 2018. Marquis is a native of the south-side area of Chicago. He began his college studies at Iowa State University, then the University of Iowa, before attaining his Master of Public Administration degree from the University of Missouri-Kansas City. Marquis has shown a spirit for entrepreneurship over the years as he has owned and managed several small businesses to support his family. Marquis has also served in the resident treatment field for nearly eight years, most of which was in the capacity of a supervisor/director. Marquis is known for his witty dry humor and his passion for taking care of his family.