Jeffrey Colvin, MD, JD
---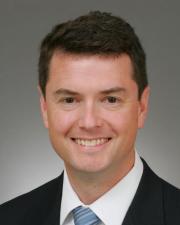 Fellow, World Health Organization Collaborating Centre
Biography
—
Background and Professional Interests
I am an assistant professor of pediatrics at Children's Mercy Hospital and the University of Missouri – Kansas City School of Medicine. I have an undergraduate degree in public health from the Johns Hopkins University. I earned a medical degree from the Medical College of Georgia and a law degree from Columbia University in New York. I completed my pediatric residency training at Children's Hospital Boston and Boston Medical Center. I specialize in the care of hospitalized children.
Research Interests
I am interested in understanding the impact of social determinants on child health. In particular, I hope to learn how changes facilitated by communities can alter those social determinants and improve the lives of children.
Why I chose to be engaged in this work/How I came to be engaged in this work
While an undergraduate and graduate student, I became very aware of the importance of translating research on the social determinants of health into real world, practical action for low income communities. It is not enough to simply identify the source of disease; physicians need to assist communities in improving those root causes of poor health and to improve their lives. During my training, I also learned that most important public health action in communities was not undertaken by physicians or researchers. Rather, the most important work is being undertaken by neighborhood residents, working together to improve their communities. I became very interested in learning how community residents could become more effective in facilitating community change to improve health.
Description of the work I am engaged in
Beyond caring for hospitalized children, I am the medical advisor to the medical-legal partnership at Children's Mercy Hospital. Medical-legal partnerships join public interest attorneys with physicians, social workers, and patients in the health care setting to remedy social determinants of health through legal means. By working with public interest attorneys, physicians can address problems that impact a patient's health but that are beyond the scope of medicine, such as poverty, poor housing conditions, food insecurity, and immigration status. Through collaboration with the KU Work Group, we are evaluating the health impact of medical-legal partnerships and are examining how these partnerships create change within the health care community to better address the social determinants of health.