Cynthia Esiaka
---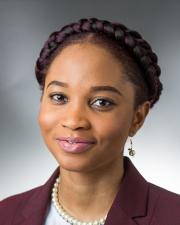 Graduate Research Assistant
Contact Info
Dole Center, Room 4083
Lawrence
1000 Sunnyside Ave.
Lawrence, KS 66045
---
Biography
—
Chikamso Cynthia Esiaka is a Graduate Research Assistant involved in several projects including ThrYve and Project Aim4Peace. Currently a doctoral student in Educational Psychology and Research at KU, Cynthia received her master's degree in College Student Personnel (Higher Education Administration and Student Affairs) from Arkansas Tech University. Her undergraduate degree is in Biology Education from Lagos State University, Nigeria.
Cynthia's background is in youth development, student success, program evaluation, and measurement. She is interested in research promoting lifelong learning within communities, educational opportunity programs, and lowering the achievement gaps for our most vulnerable groups. She has been engaged in research activities investigating nontraditional teaching methods, international student access and attitudes toward mental health counseling, and using statistical methods to examine test-item fairness amongst countries participating in large-scale international assessments, such as TIMSS.
Cynthia has had experience volunteering as a Peer Health Educator trainer for the Adolescent Sexual and Reproductive Health (ASRH) and Anti-HIV/AIDS initiative, organized by a UNICEF/NYSC partnership in Lagos, Nigeria. As a biology teacher, Cynthia was involved in organizing and conducting community health outreach campaigns about HIV testing and EBOLA, alongside her students and other partnering community agencies in Lagos, Nigeria. She also participated in raising awareness about safe sexual health processes for the University of Lagos students, through community promotion of the MTV media award-winning drama series called "Shuga," a show sponsored by UNFPA and MTV's global Staying Alive Foundation. Cynthia's undergraduate student-teacher experience included organizing an academic intervention and life-skills session for her high-schoolers outside of the classroom, through a pet project called SPUR. During high school, Cynthia was a member of Girls Power Initiative (GPI), a platform that empowers female high-school students with life skills, and Dr. Ken Katas Youth Foundation (KKYF), a faith-based, 360-degrees, youth development platform. Currently, Cynthia volunteers as a trainer for Jayhawks Give a Flock (JGAF), KU's bystander intervention program organized by the Sexual Assault Prevention and Education Center (SAPEC) for each incoming freshman class.