Audrey Foster
---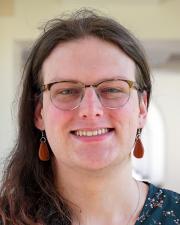 Administrative Associate Sr
Contact Info
Dole Center, Room 4082
Lawrence
1000 Sunnyside Ave.
Lawrence, KS 66045
---
Biography
—
Audrey Foster (she/her/hers) is the Administrative Associate Sr for the Center for Community Health and Development, as well as the Center for Service Learning, located in Strong Hall.
While new to KU and Lawrence, she is excited by the work and will be managing many forward-facing and behind-the-scenes processes that help to keep those organizations working smoothly.
She grew up in Central Kansas in the town of Sterling before attending Oklahoma City University and Washburn University (Topeka, KS) in the 2010s, receiving a BA in Music and a BA in Philosophy, respectively, from those institutions.
Her capstone paper at Washburn focused on applying a lens of Philosophic Pragmatism to the idea of Conceivability in Modal Logic, specifically the Conceivability Criteria as articulated by David Chalmers in "Does Conceivability Entail Possibility?", for which she earned Departmental Honors.
After working in book stores, home insurance claims, vehicle registrations, and real estate, she is grateful for and excited by the opportunity to contribute her 'filing-cabinet' brain and propensity for seeing gaps and filling them to the CCHD.
When not answering emails and calls, she looks after three cats with her partner and is likely in the process of picking up or dropping a new artistic hobby or instrument, having taught herself (and subsequently forgotten most of) painting, model building, origami, crochet, piano, cello, bass, and guitar.