Alireza Eshraghi, Ph.D.
---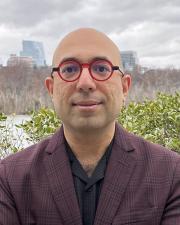 Fellow, World Health Organization Collaborating Centre
Biography
—
Background and Professional Interests
I am currently Director of Programs at the international Institute for War and Peace Reporting and a visiting scholar at the University of North Carolina's Center for Middle East and Islamic Studies. For the past several years, I have also been advising KU Center for Community Health and Development in designing and developing curricula for continuing education programs.
I am an alumnus of the Duke-UNC Rotary Center for International Studies in Peace and Conflict Resolution. I also have a master's degree in Rhetoric and a doctorate in Communication at UNC, and I was awarded Certificate of Excellence in Journalism from the University of California, Berkeley.
I have more than two decades of multisectoral and interdisciplinary experience in designing and leading dozens of initiatives for engaged scholarship, as well as technical assistance and development projects fostering civic engagement and social entrepreneurship, promoting effective, safe, and sustainable activism practices, advocating for gender equality, strengthening local communities, amplifying marginalized voices, and improving governance processes.
I have been fortunate to work with many grassroots and civil society organizations across the world, spanning countries such as Myanmar, Pakistan, Afghanistan, Yemen, Iran, Iraq, Syria, Egypt, Somalia, Nigeria, Cameroon, Kenia, Colombia, and Mexico. I have conceptualized and launched several innovative remote and in-person learning and collaboration programs in order to help civic sectors grow their organizational and operational capacity and effectively engage in public leadership and policymaking processes. 
I am keen in studying innovative approaches and best practices for youth development, civic engagement, and social entrepreneurship to empower marginalized and disadvantaged communities. 
My academic research interests lie in understanding how members of "precarious communities" engage in civic dialogue and express their dissent and disagreement. I study how grassroots activism emerge in response to specific grievances and exigencies; how it is shaped by localized constraints; what types of activism are sanctioned and what types are labeled as hostile or disruptive; and what rhetorical strategies and tactics community members use to create public debate and persuade stakeholders to pursue and adapt particular solutions.